LazyMuffin
01-14-2019, 07:41 AM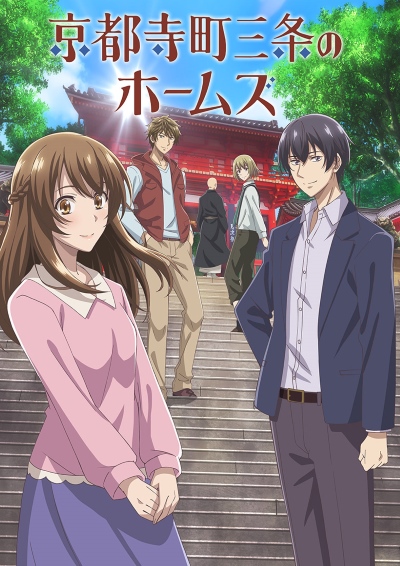 Synopsis
Based on mystery novels written by Mochizuki Mai.
There is an antique shop in Kyoto's Teramachi Sanjou shopping district. High school girl Mashiro Aoi unexpectedly runs into Yagashira Kiyotaka, the son of the shop's owner, and ends up working part-time at the shop. Kiyotaka is called the "Holmes at Teramachi Sanjou," and he and Aoi solve odd cases brought to them by various clients.
Alternative Titles
English: Holmes of Kyoto
Synonyms: Holmes at Kyoto Teramachi Sanjo
Japanese: 京都寺町三条のホームズ
Information
Episodes: 12
Aired: Jul 10, 2018 to Sep 25, 2018
Producers: None found
Licensors: None found
Studios: Seven
Genres: Mystery
Duration: 23 min. per ep.
File Information
Group: HorribleSubs
Video: 1280x720 AVC 23.976 FPS
Audio: Japanese AAC LC
Subtitles: English ASS
Container: MKV
Screenshots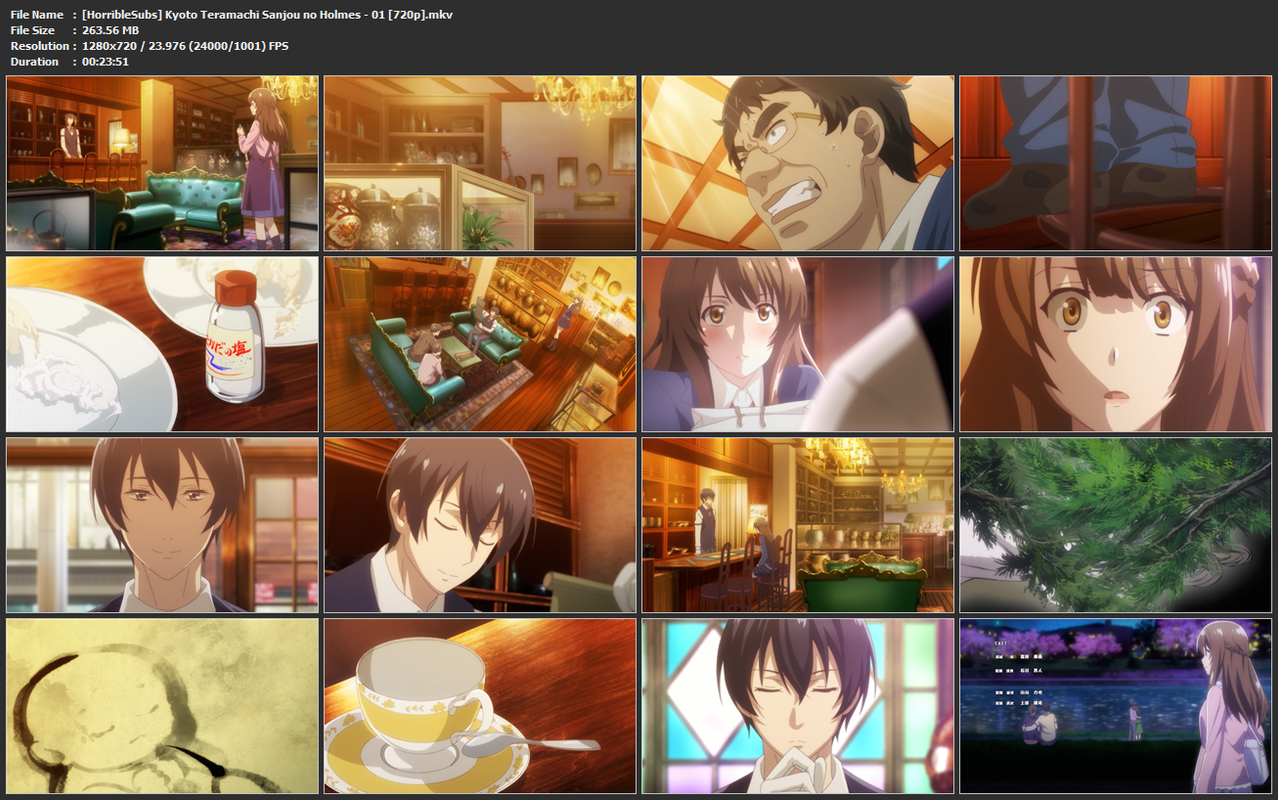 Downloads:
https://filefox.cc/27pgvogrsok3/
[HorribleSubs]_Kyoto_Teramachi_Sanjou_no_Holmes_-_01_[720p].mkv
https://filefox.cc/3zwxfcxekq0u/
[HorribleSubs]_Kyoto_Teramachi_Sanjou_no_Holmes_-_02_[720p].mkv
https://filefox.cc/aly3agf84jmu/
[HorribleSubs]_Kyoto_Teramachi_Sanjou_no_Holmes_-_03_[720p].mkv
https://filefox.cc/hjm9b4rbpcis/
[HorribleSubs]_Kyoto_Teramachi_Sanjou_no_Holmes_-_04_[720p].mkv
https://filefox.cc/ng3f5rlaw7mm/
[HorribleSubs]_Kyoto_Teramachi_Sanjou_no_Holmes_-_05_[720p].mkv
https://filefox.cc/5zc3m082y6vy/
[HorribleSubs]_Kyoto_Teramachi_Sanjou_no_Holmes_-_06_[720p].mkv
https://filefox.cc/ctyravdef62r/
[HorribleSubs]_Kyoto_Teramachi_Sanjou_no_Holmes_-_07_[720p].mkv
https://filefox.cc/ce9r73cjed0k/
[HorribleSubs]_Kyoto_Teramachi_Sanjou_no_Holmes_-_08_[720p].mkv
https://filefox.cc/c0sh2845y0mp/
[HorribleSubs]_Kyoto_Teramachi_Sanjou_no_Holmes_-_09_[720p].mkv
https://filefox.cc/4nzu8ljz80od/
[HorribleSubs]_Kyoto_Teramachi_Sanjou_no_Holmes_-_10_[720p].mkv
https://filefox.cc/e4mtr6qxeu4x/
[HorribleSubs]_Kyoto_Teramachi_Sanjou_no_Holmes_-_11_[720p].mkv
https://filefox.cc/fc5om3ihx4ip/
[HorribleSubs]_Kyoto_Teramachi_Sanjou_no_Holmes_-_12_[720p].mkv