LazyMuffin
01-18-2019, 07:53 AM
Synopsis
It is a world replete with dragons and Jushiki sorcerers. Jushiki is a devastatingly powerful formula that can alter the laws of physics, capable of creating enormous TNT explosives or poisonous gas through plasma and nuclear fusion. A down-on-his-luck sorcerer named Gayus joins forces with the beautiful but cruel Jushiki practitioner, Gigina, as bounty hunters pursuing dragons. Then one day, they are presented with an odd request: to serve as security guards for a grand festival put on by Mouldeen, the ruler of their kingdom. It is then that a mysterious serial killing of Jushiki sorcerers begins.
Alternative Titles
English: Dances with the Dragons
Japanese: されど罪人は竜と踊る
Information
Episodes: 12
Aired: Apr 6, 2018 to Jun 22, 2018
Producers: TBS, NBCUniversal Entertainment Japan
Licensors: Funimation
Studios: Seven Arcs Pictures
Genres: Action, Drama, Fantasy, Sci-Fi
Duration: 23 min. per ep.
File Information
Group: HorribleSubs
Video: 1280x720 AVC 23.976 FPS
Audio: Japanese AAC LC
Subtitles: English ASS
Container: MKV
Screenshots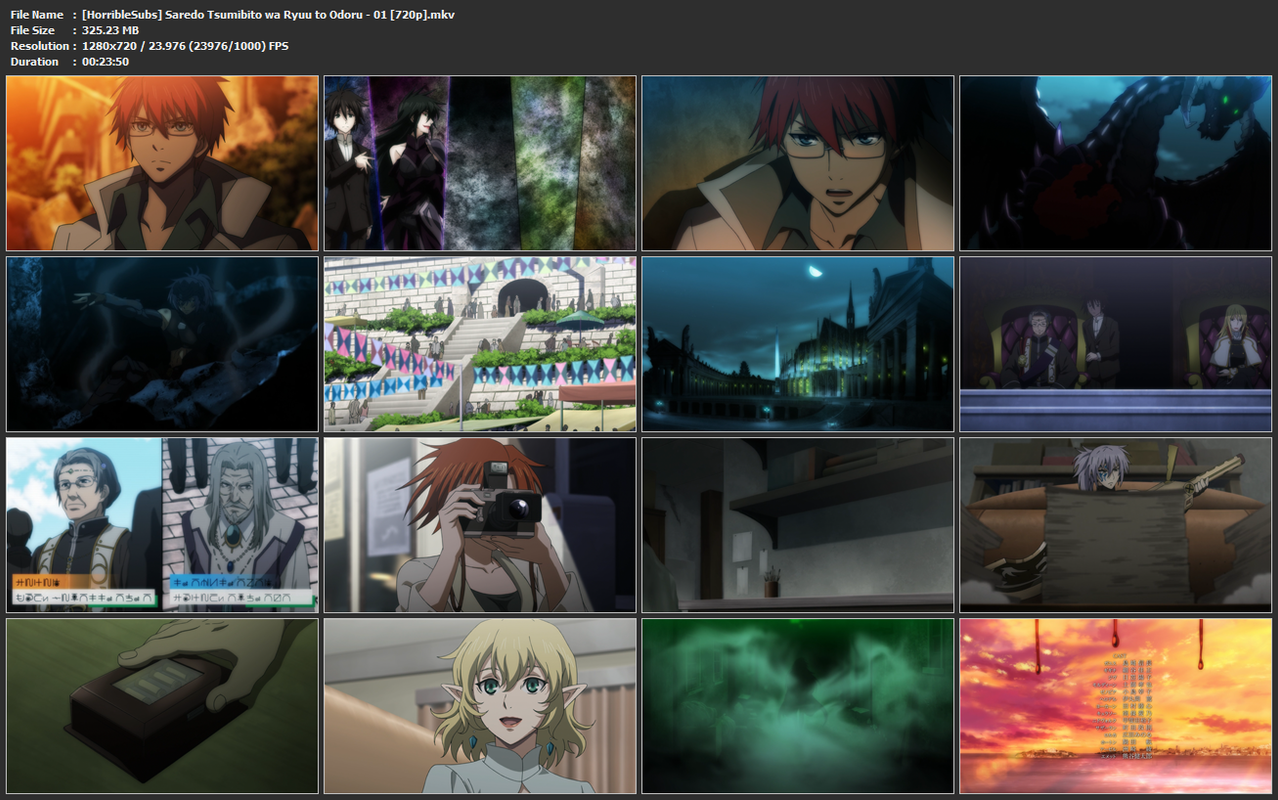 Downloads:
https://filefox.cc/8jdtx0fhmfeo/
[HorribleSubs]_Saredo_Tsumibito_wa_Ryuu_to_Odoru_-_01_[720p].mkv
https://filefox.cc/mfau6efkctks/
[HorribleSubs]_Saredo_Tsumibito_wa_Ryuu_to_Odoru_-_02_[720p].mkv
https://filefox.cc/ina837lw51zu/
[HorribleSubs]_Saredo_Tsumibito_wa_Ryuu_to_Odoru_-_03_[720p].mkv
https://filefox.cc/6b92k0ogr7wt/
[HorribleSubs]_Saredo_Tsumibito_wa_Ryuu_to_Odoru_-_04_[720p].mkv
https://filefox.cc/1gt2koie3as2/
[HorribleSubs]_Saredo_Tsumibito_wa_Ryuu_to_Odoru_-_05_[720p].mkv
https://filefox.cc/yx0n1l1u9zkg/
[HorribleSubs]_Saredo_Tsumibito_wa_Ryuu_to_Odoru_-_06_[720p].mkv
https://filefox.cc/546717huvswb/
[HorribleSubs]_Saredo_Tsumibito_wa_Ryuu_to_Odoru_-_07_[720p].mkv
https://filefox.cc/utnm4bmzbujw/
[HorribleSubs]_Saredo_Tsumibito_wa_Ryuu_to_Odoru_-_08_[720p].mkv
https://filefox.cc/liliam7wk7sf/
[HorribleSubs]_Saredo_Tsumibito_wa_Ryuu_to_Odoru_-_09_[720p].mkv
https://filefox.cc/1oz4kaeg4aqp/
[HorribleSubs]_Saredo_Tsumibito_wa_Ryuu_to_Odoru_-_10_[720p].mkv
https://filefox.cc/j3so70pdmt1g/
[HorribleSubs]_Saredo_Tsumibito_wa_Ryuu_to_Odoru_-_11_[720p].mkv
https://filefox.cc/s3qreqhfhiz0/
[HorribleSubs]_Saredo_Tsumibito_wa_Ryuu_to_Odoru_-_12_[720p].mkv