LazyMuffin
01-22-2019, 07:13 AM
Synopsis
The story picks up after The Second Raid as Amalgam's fight against Mithril heats up.
Alternative Titles
Synonyms: Full Metal Panic! IV
Japanese: フルメタル・パニック!Invisible Victory
Information
Episodes: 12
Aired: Apr 13, 2018 to Jul 18, 2018
Producers: None found,
Licensors: Funimation
Studios: Xebec
Genres: Action, Mecha, Military
Duration: 24 min. per ep.
File Information
Group: HorribleSubs
Video: 1280x720 AVC 23.976 FPS
Audio: Japanese AAC LC
Subtitles: English ASS
Container: MKV
Screenshots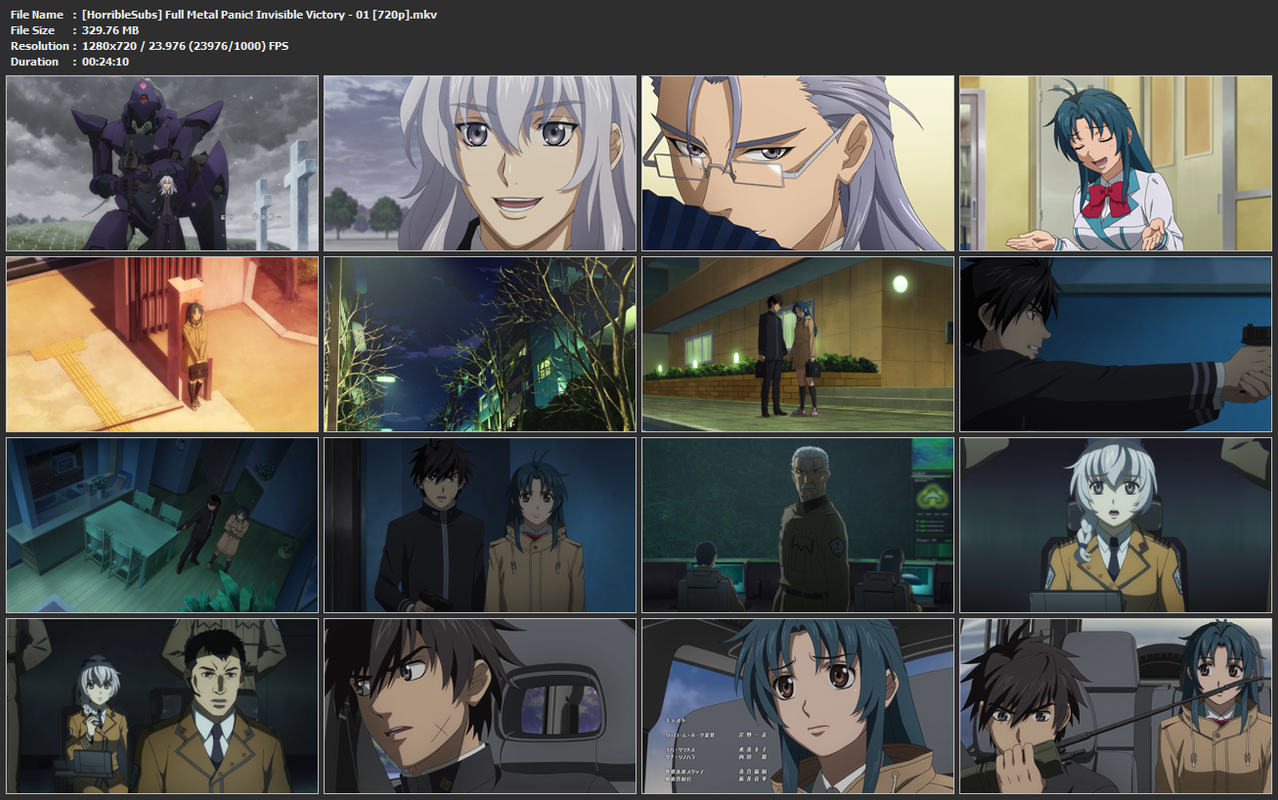 Downloads:
https://filefox.cc/z5qds3hp29qn/
[HorribleSubs]_Full_Metal_Panic!_Invisible_Victory_-_01_[720p].mkv
https://filefox.cc/1zhpx9n7gk79/
[HorribleSubs]_Full_Metal_Panic!_Invisible_Victory_-_02_[720p].mkv
https://filefox.cc/dswbqnyfywxk/
[HorribleSubs]_Full_Metal_Panic!_Invisible_Victory_-_03_[720p].mkv
https://filefox.cc/p29fcst92eec/
[HorribleSubs]_Full_Metal_Panic!_Invisible_Victory_-_04_[720p].mkv
https://filefox.cc/a3zqrc5lldtj/
[HorribleSubs]_Full_Metal_Panic!_Invisible_Victory_-_05_[720p].mkv
https://filefox.cc/6vrjthevwox5/
[HorribleSubs]_Full_Metal_Panic!_Invisible_Victory_-_06_[720p].mkv
https://filefox.cc/vssam2lss2et/
[HorribleSubs]_Full_Metal_Panic!_Invisible_Victory_-_07_[720p].mkv
https://filefox.cc/ztkbq55iwz2i/
[HorribleSubs]_Full_Metal_Panic!_Invisible_Victory_-_08_[720p].mkv
https://filefox.cc/r7wesf8y1z4x/
[HorribleSubs]_Full_Metal_Panic!_Invisible_Victory_-_08.5_[720p].mkv
https://filefox.cc/yxaw1g61z9tu/
[HorribleSubs]_Full_Metal_Panic!_Invisible_Victory_-_09_[720p].mkv
https://filefox.cc/uzdkx4eq4615/
[HorribleSubs]_Full_Metal_Panic!_Invisible_Victory_-_10_[720p].mkv
https://filefox.cc/g3k3neuxeu82/
[HorribleSubs]_Full_Metal_Panic!_Invisible_Victory_-_11_[720p].mkv
https://filefox.cc/veyzyqxu79qs/
[HorribleSubs]_Full_Metal_Panic!_Invisible_Victory_-_12_[720p].mkv