LazyMuffin
01-22-2019, 07:27 AM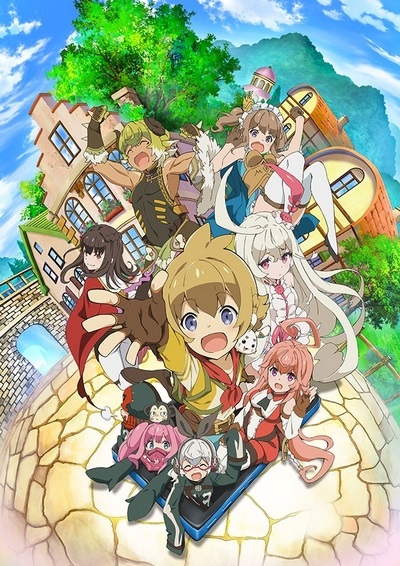 Synopsis
"Period" is how magic users called who beat "Spiral"-monsters that were summoned from isolation. Due to the rise of these beings, 14-year-old apprentice Period Haru, who is a part of the Eighth Arc-end Division, is called to break the cycle and cast himself into the endless battle. However, a mysterious thievery occurred and sank the division into bankruptcy, forcing Haru and his other comrades have to leave their headquarters. To rebuild a branch, they have to overcome quest after quest.
Alternative Titles
Japanese: ラストピリオド -終わりなき螺旋の物語-
Information
Episodes: 12
Aired: Apr 12, 2018 to Jun 28, 2018
Producers: Egg Firm
Licensors: None found,
Studios: J.C.Staff
Genres: Action, Adventure, Comedy, Fantasy, Magic
Duration: 23 min. per ep.
File Information
Group: HorribleSubs
Video: 1280x720 AVC 23.976 FPS
Audio: Japanese AAC LC
Subtitles: English ASS
Container: MKV
Screenshots
Downloads:
https://filefox.cc/wco9pzwbhxrs/
[HorribleSubs]_Last_Period_-_Owarinaki_Rasen_no_Monogatari_-_01_[720p].mkv
https://filefox.cc/t0jkysumf1ip/
[HorribleSubs]_Last_Period_-_Owarinaki_Rasen_no_Monogatari_-_02_[720p].mkv
https://filefox.cc/47fy2sdmoekb/
[HorribleSubs]_Last_Period_-_Owarinaki_Rasen_no_Monogatari_-_03_[720p].mkv
https://filefox.cc/8deermw2sait/
[HorribleSubs]_Last_Period_-_Owarinaki_Rasen_no_Monogatari_-_04_[720p].mkv
https://filefox.cc/ecrx0gk0151h/
[HorribleSubs]_Last_Period_-_Owarinaki_Rasen_no_Monogatari_-_05_[720p].mkv
https://filefox.cc/vqsx8q6ptezr/
[HorribleSubs]_Last_Period_-_Owarinaki_Rasen_no_Monogatari_-_06_[720p].mkv
https://filefox.cc/hf2uprz2qa12/
[HorribleSubs]_Last_Period_-_Owarinaki_Rasen_no_Monogatari_-_07_[720p].mkv
https://filefox.cc/xouevolhwjft/
[HorribleSubs]_Last_Period_-_Owarinaki_Rasen_no_Monogatari_-_08_[720p].mkv
https://filefox.cc/7ft86qvjwzpy/
[HorribleSubs]_Last_Period_-_Owarinaki_Rasen_no_Monogatari_-_09_[720p].mkv
https://filefox.cc/d5ti58yfhkks/
[HorribleSubs]_Last_Period_-_Owarinaki_Rasen_no_Monogatari_-_10_[480p].mkv
https://filefox.cc/lmpahmbfgtxi/
[HorribleSubs]_Last_Period_-_Owarinaki_Rasen_no_Monogatari_-_11_[720p].mkv
https://filefox.cc/2wenacmjr4au/
[HorribleSubs]_Last_Period_-_Owarinaki_Rasen_no_Monogatari_-_12_[720p].mkv