LazyMuffin
01-25-2019, 08:14 AM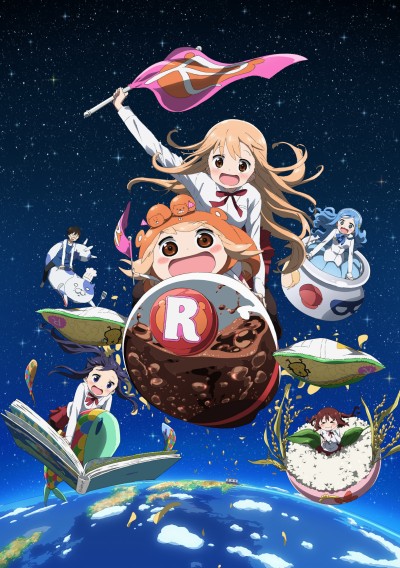 Synopsis
Umaru Doma is a model student who has a hidden side: when she gets home each day, she puts on her hamster hoodie and turns into a sluggish otaku fond of junk food. As Umaru continues these daily antics, the friendship between her and her classmates-Nana Ebina, Kirie Motoba, and Sylphinford Tachibana-deepens, and more and more interesting events begin to unfold.
Of course, these events give rise to numerous questions. What did Nana ask of Umaru's brother Taihei? Who is the mysterious girl with the diamond hairpin? And most important of all: why does this girl seem to know Umaru? These questions and more will be answered in Himouto! Umaru-chan R!
Alternative Titles
Synonyms: Himouto! Umaru-chan 2nd Season, My Two-Faced Little Sister R
Japanese: 干物妹!うまるちゃんR
Information
Episodes: 12
Aired: Oct 8, 2017 to Dec 24, 2017
Producers: AT-X, Flex Comix, TOHO animation, Good Smile Company, Shueisha, bilibili, BS11, Jinnan Studio, RAY
Licensors: Sentai Filmworks
Studios: Doga Kobo
Genres: Comedy, School, Seinen, Slice of Life
Duration: 23 min. per ep.
File Information
Group: Nii-sama
Video: 1280x720 AVC 23.976 FPS
Audio: Japanese AAC LC
Subtitles: English ASS
Container: MKV
Screenshots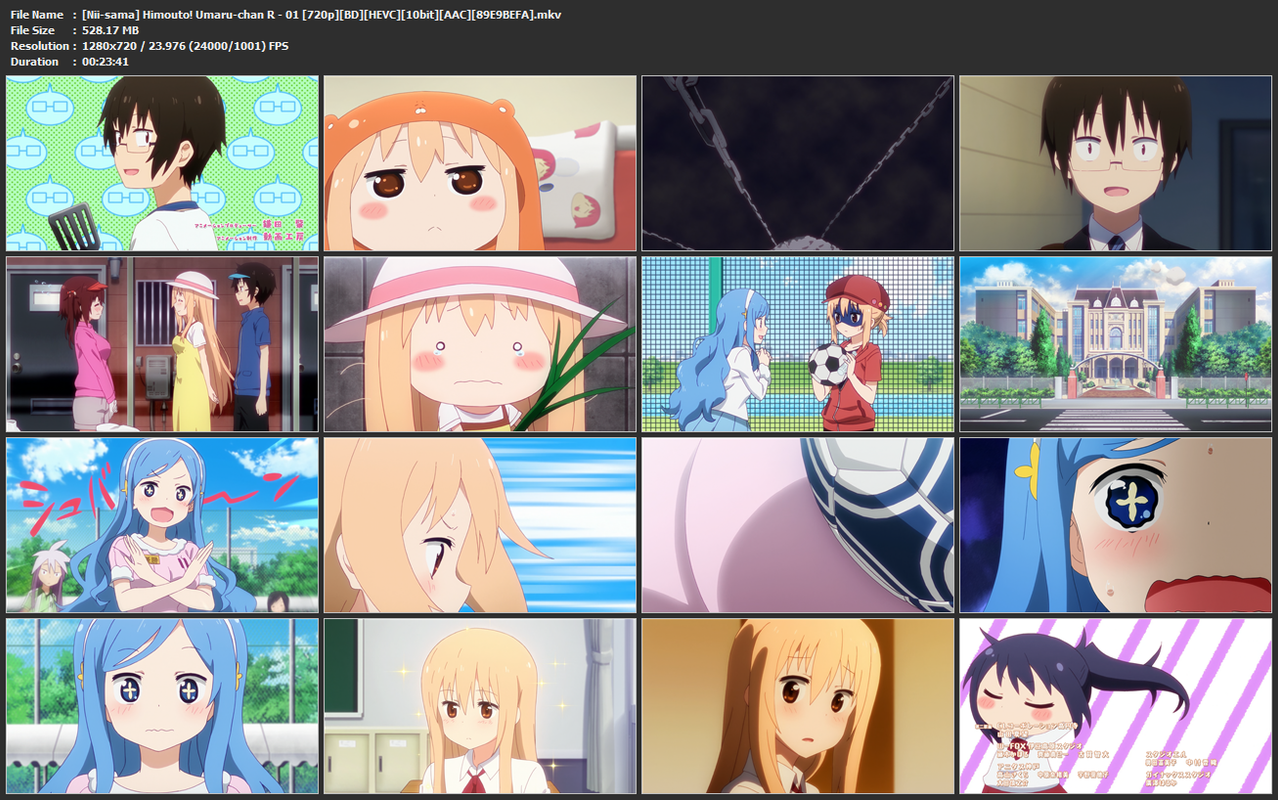 Downloads:
https://filefox.cc/2rx7agzrsgkm/
[Nii-sama]_Himouto!_Umaru-chan_R_-_01_[720p][BD][HEVC][10bit][AAC][89E9BEFA].mkv
https://filefox.cc/qzsgstepqihl/
[Nii-sama]_Himouto!_Umaru-chan_R_-_02_[720p][BD][HEVC][10bit][AAC][2531F413].mkv
https://filefox.cc/6h6zif7gx003/
[Nii-sama]_Himouto!_Umaru-chan_R_-_03_[720p][BD][HEVC][10bit][AAC][CAFCD23F].mkv
https://filefox.cc/0884r4z6xdpq/
[Nii-sama]_Himouto!_Umaru-chan_R_-_04_[720p][BD][HEVC][10bit][AAC][C3A2A300].mkv
https://filefox.cc/jri2av6b5g3j/
[Nii-sama]_Himouto!_Umaru-chan_R_-_05_[720p][BD][HEVC][10bit][AAC][07EFE398].mkv
https://filefox.cc/4pxdqy1ia1rn/
[Nii-sama]_Himouto!_Umaru-chan_R_-_06_[720p][BD][HEVC][10bit][AAC][925E4109].mkv
https://filefox.cc/20tyf97w4kdo/
[Nii-sama]_Himouto!_Umaru-chan_R_-_07_[720p][BD][HEVC][10bit][AAC][BEE2B857].mkv
https://filefox.cc/c0i8l1af3ija/
[Nii-sama]_Himouto!_Umaru-chan_R_-_08_[720p][BD][HEVC][10bit][AAC][724EAABF].mkv
https://filefox.cc/sn3w03862xuo/
[Nii-sama]_Himouto!_Umaru-chan_R_-_09_[720p][BD][HEVC][10bit][AAC][3B5CE26A].mkv
https://filefox.cc/5nclwoguhgs9/
[Nii-sama]_Himouto!_Umaru-chan_R_-_10_[720p][BD][HEVC][10bit][AAC][AE669A0B].mkv
https://filefox.cc/a84nnue670fx/
[Nii-sama]_Himouto!_Umaru-chan_R_-_11_[720p][BD][HEVC][10bit][AAC][554425D4].mkv
https://filefox.cc/ty8opcoetwjb/
[Nii-sama]_Himouto!_Umaru-chan_R_-_12_[720p][BD][HEVC][10bit][AAC][871AEFAA].mkv
https://filefox.cc/fgby0uvgsbqk/
[Nii-sama]_Himouto!_Umaru-chan_R_-_NCED_[720p][BD][HEVC][10bit][AAC].mkv
https://filefox.cc/x4fwu29hvdb4/
[Nii-sama]_Himouto!_Umaru-chan_R_-_NCOP_[720p][BD][HEVC][10bit][AAC].mkv