LazyMuffin
01-28-2019, 06:19 AM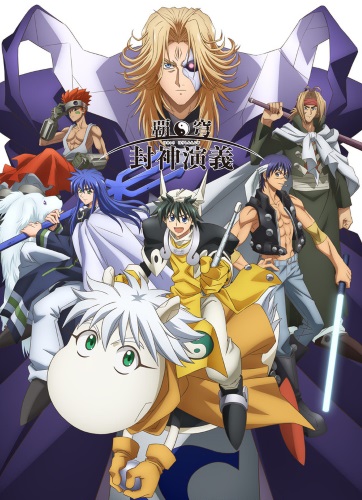 Synopsis
When his clan is wiped out by a beautiful demon, young Taikobo finds himself in charge of the mysterious Houshin Project. Its mission: find all immortals living in the human world and seal them away forever. But who do you trust-and whose side are you really on-when you've been trained to hunt demons by a demon?
Alternative Titles
English: Hakyu Hoshin Engi
Japanese: 覇穹 封神演義
Information
Episodes: 23
Aired: Jan 12, 2018 to Jun 29, 2018
Producers: NBCUniversal Entertainment Japan, i0+
Licensors: Funimation
Studios: C-Station
Genres: Adventure, Demons, Fantasy, Shounen, Supernatural
Duration: 23 min. per ep.
File Information
Group: HorribleSubs
Video: 1280x720 AVC 23.976 FPS
Audio: Japanese AAC LC
Subtitles: English ASS
Container: MKV
Screenshots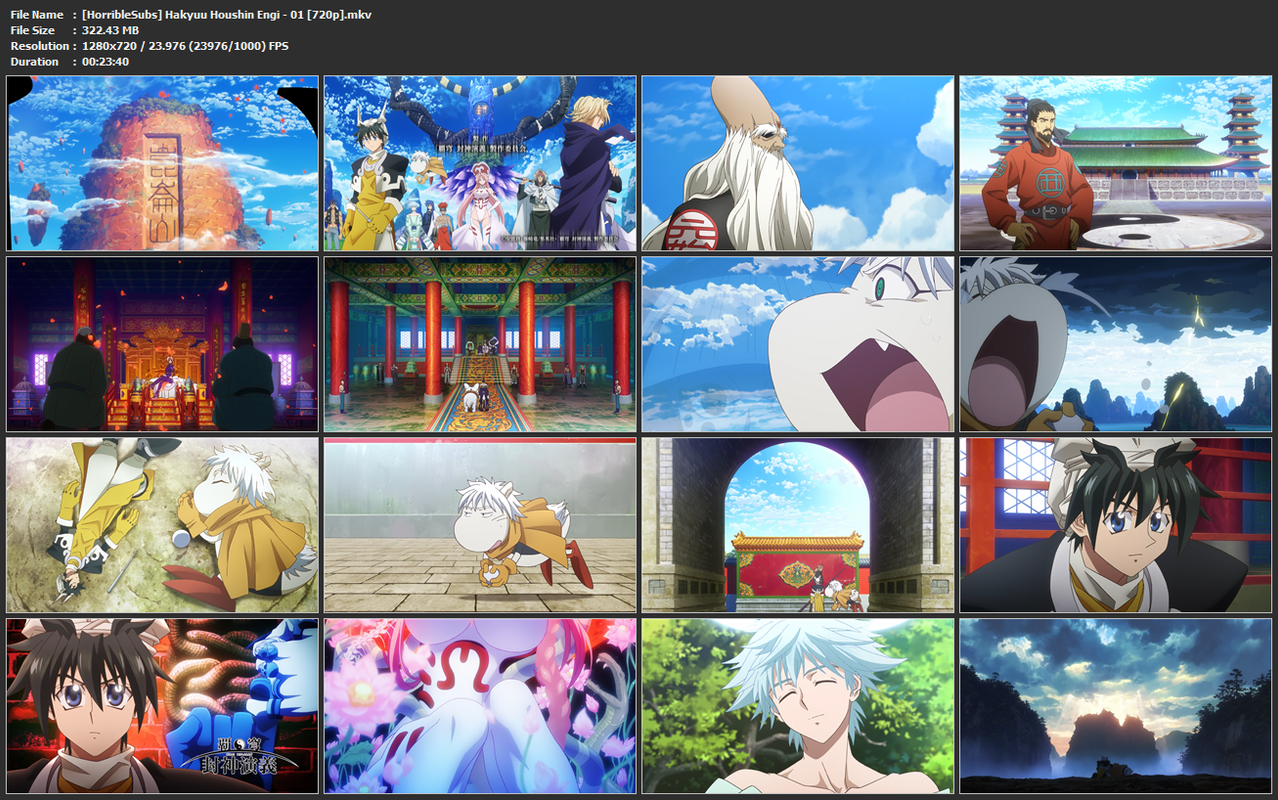 Downloads:
https://filefox.cc/odt9aw14w3iv/
[HorribleSubs]_Hakyuu_Houshin_Engi_-_01_[720p].mkv
https://filefox.cc/p71k2w05loxl/
[HorribleSubs]_Hakyuu_Houshin_Engi_-_02_[720p].mkv
https://filefox.cc/b59amnb2wrsm/
[HorribleSubs]_Hakyuu_Houshin_Engi_-_03_[720p].mkv
https://filefox.cc/8xx7wumd75mk/
[HorribleSubs]_Hakyuu_Houshin_Engi_-_04_[720p].mkv
https://filefox.cc/3d5hui9pexyw/
[HorribleSubs]_Hakyuu_Houshin_Engi_-_05_[720p].mkv
https://filefox.cc/bap5qijcbwpc/
[HorribleSubs]_Hakyuu_Houshin_Engi_-_06_[720p].mkv
https://filefox.cc/sphwrizj3mnj/
[HorribleSubs]_Hakyuu_Houshin_Engi_-_07_[720p].mkv
https://filefox.cc/qywmgva81qag/
[HorribleSubs]_Hakyuu_Houshin_Engi_-_08_[720p].mkv
https://filefox.cc/likpt187fxfp/
[HorribleSubs]_Hakyuu_Houshin_Engi_-_09_[720p].mkv
https://filefox.cc/fa8tmwpf1xrc/
[HorribleSubs]_Hakyuu_Houshin_Engi_-_10_[720p].mkv
https://filefox.cc/v7s80uwzmirm/
[HorribleSubs]_Hakyuu_Houshin_Engi_-_11_[720p].mkv
https://filefox.cc/rv0z4mhlkoip/
[HorribleSubs]_Hakyuu_Houshin_Engi_-_12_[720p].mkv
https://filefox.cc/gllo1eqz2xzo/
[HorribleSubs]_Hakyuu_Houshin_Engi_-_13_[720p].mkv
https://filefox.cc/9bdcqzcxjvz1/
[HorribleSubs]_Hakyuu_Houshin_Engi_-_14_[720p].mkv
https://filefox.cc/dnlq2l7ntk8b/
[HorribleSubs]_Hakyuu_Houshin_Engi_-_15_[720p].mkv
https://filefox.cc/nq66ao3ygwlf/
[HorribleSubs]_Hakyuu_Houshin_Engi_-_16_[720p].mkv
https://filefox.cc/05ijklpfin63/
[HorribleSubs]_Hakyuu_Houshin_Engi_-_17_[720p].mkv
https://filefox.cc/wxlqbyh6td2c/
[HorribleSubs]_Hakyuu_Houshin_Engi_-_18_[720p].mkv
https://filefox.cc/tbequn9zk1ze/
[HorribleSubs]_Hakyuu_Houshin_Engi_-_19_[720p].mkv
https://filefox.cc/vc5s24wl4isx/
[HorribleSubs]_Hakyuu_Houshin_Engi_-_20_[720p].mkv
https://filefox.cc/hjoulwchtv3q/
[HorribleSubs]_Hakyuu_Houshin_Engi_-_21_[720p].mkv
https://filefox.cc/lwn6vrvx6smx/
[HorribleSubs]_Hakyuu_Houshin_Engi_-_22_[720p].mkv
https://filefox.cc/8miidqxdb9pa/
[HorribleSubs]_Hakyuu_Houshin_Engi_-_23_[720p].mkv
https://filefox.cc/2s9m10erwy8z/
[HorribleSubs]_Hakyuu_Houshin_Engi_-_24_[720p].mkv