LazyMuffin
01-28-2019, 06:26 AM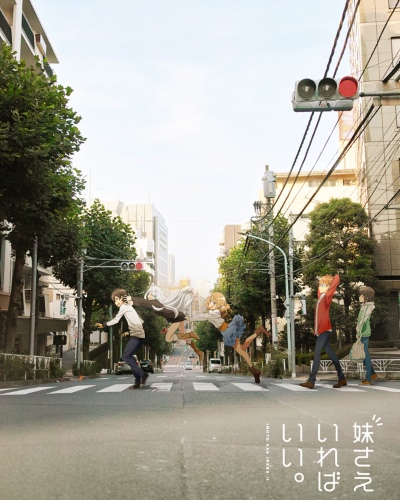 Synopsis
Itsuki Hashima is a light novelist obsessed with little sisters, strictly focusing on them when he writes his stories. Despite his personality, he is surrounded by a tight circle of friends: Nayuta Kani, a genius yet perverted novelist who is in love with him; Haruto Fuwa, a fellow male author whose work has seen considerable success; Miyako Shirakawa, a good friend that he met in college; and Chihiro, his perfect younger step-brother who takes care of the housework and cooking.
Together, they play strange games, go on spontaneous journeys, crack silly jokes, and celebrate each other's successes. However, each individual must also deal with their own issues, whether it is struggling to meet a deadline or coming to terms with traumatic events buried in their past.
Alternative Titles
English: A Sister's All You Need
Synonyms: It'd be Good if Only Little Sister Was Here
Japanese: 妹さえいればいい。
Information
Episodes: 12
Aired: Oct 8, 2017 to Dec 24, 2017
Producers: Bandai Visual, Lantis, Shochiku, Bushiroad, Hakuhodo DY Music & Pictures, BS11, Shogakukan
Licensors: Funimation
Studios: Silver Link.
Genres: Comedy, Romance
Duration: 23 min. per ep.
File Information
Group: HorribleSubs
Video: 1280x720 AVC 23.976 FPS
Audio: Japanese AAC LC
Subtitles: English ASS
Container: MKV
Screenshots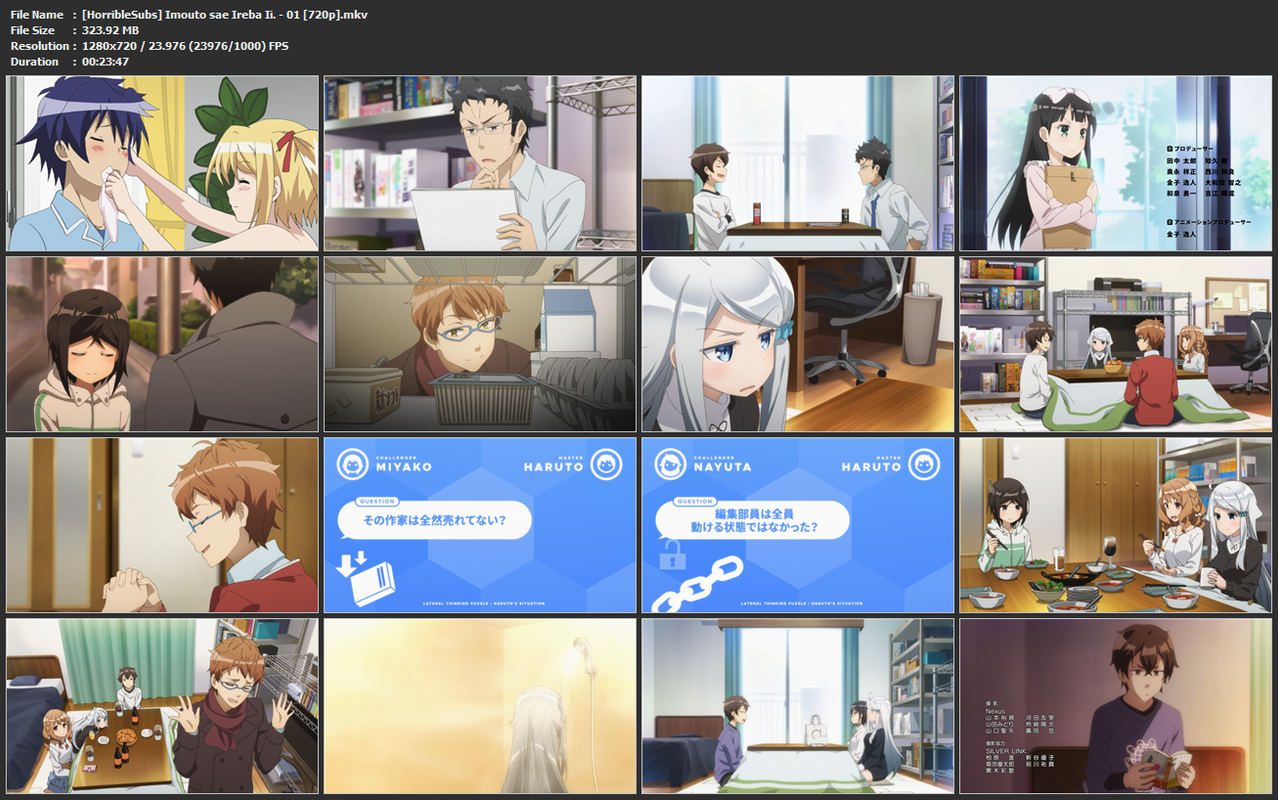 Downloads:
https://filefox.cc/q96cyedv25gd/
[HorribleSubs]_Imouto_sae_Ireba_Ii._-_01_[720p].mkv
https://filefox.cc/pot5nkubc4ub/
[HorribleSubs]_Imouto_sae_Ireba_Ii._-_02_[720p].mkv
https://filefox.cc/ssly57kmclec/
[HorribleSubs]_Imouto_sae_Ireba_Ii._-_03_[720p].mkv
https://filefox.cc/8zc8u85qxfl8/
[HorribleSubs]_Imouto_sae_Ireba_Ii._-_04_[720p].mkv
https://filefox.cc/amc51upjs9et/
[HorribleSubs]_Imouto_sae_Ireba_Ii._-_05_[720p].mkv
https://filefox.cc/dfodhgq69e9i/
[HorribleSubs]_Imouto_sae_Ireba_Ii._-_06_[720p].mkv
https://filefox.cc/djykd2u1m1wl/
[HorribleSubs]_Imouto_sae_Ireba_Ii._-_07_[720p].mkv
https://filefox.cc/tt5kstxcpa38/
[HorribleSubs]_Imouto_sae_Ireba_Ii._-_08_[720p].mkv
https://filefox.cc/q6ktphp9nx4r/
[HorribleSubs]_Imouto_sae_Ireba_Ii._-_09_[720p].mkv
https://filefox.cc/utuy0paoe2z2/
[HorribleSubs]_Imouto_sae_Ireba_Ii._-_10_[720p].mkv
https://filefox.cc/7d582uwlx5fu/
[HorribleSubs]_Imouto_sae_Ireba_Ii._-_11_[720p].mkv
https://filefox.cc/1waayi6pp9ur/
[HorribleSubs]_Imouto_sae_Ireba_Ii._-_12_[720p].mkv