LazyMuffin
01-31-2019, 05:32 AM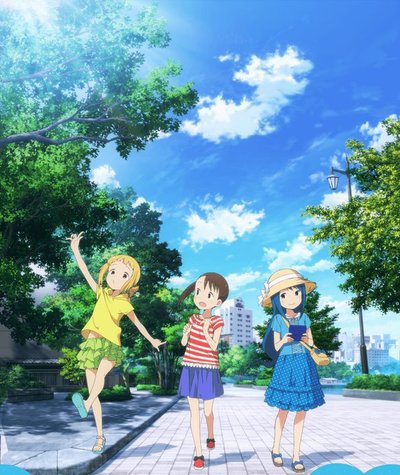 Synopsis
The "Colors" are three cute little girls who hang out together and protect the peace of their city. They have lots of fun together, doing stuff like playing games, solving puzzles, and going to the zoo. This anime follows their largely happy daily life.
Alternative Titles
English: Mitsuboshi Colors
Japanese: 三ツ星カラーズ
Information
Episodes: 12
Aired: Jan 7, 2018 to Mar 25, 2018
Producers: Frontier Works, Movic, AT-X, Grooove, Hakuhodo DY Music & Pictures, Kadokawa Media House, Kadokawa
Licensors: Sentai Filmworks
Studios: Silver Link.
Genres: Slice of Life, Comedy, Shounen
Duration: 23 min. per ep.
File Information
Group: HorribleSubs
Video: 1280x720 AVC 23.976 FPS
Audio: Japanese AAC LC
Subtitles: English ASS
Container: MKV
Screenshots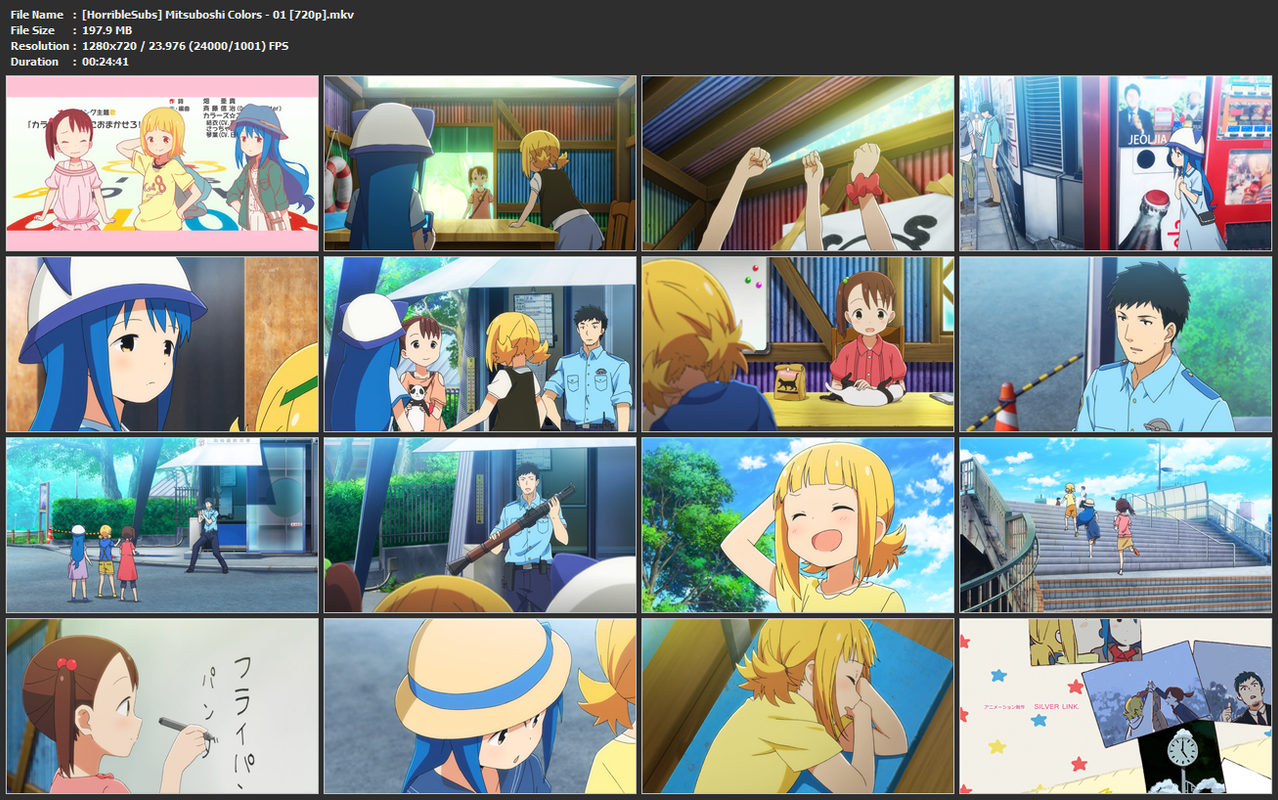 Downloads:
https://filefox.cc/35pv799zk51v/
[HorribleSubs]_Mitsuboshi_Colors_-_01_[720p].mkv
https://filefox.cc/qeq8tyxxtpt5/
[HorribleSubs]_Mitsuboshi_Colors_-_02_[720p].mkv
https://filefox.cc/dd7whvnfatx7/
[HorribleSubs]_Mitsuboshi_Colors_-_03_[720p].mkv
https://filefox.cc/oxg96odukav3/
[HorribleSubs]_Mitsuboshi_Colors_-_04_[720p].mkv
https://filefox.cc/iuiibtz49dfo/
[HorribleSubs]_Mitsuboshi_Colors_-_05_[720p].mkv
https://filefox.cc/3myg3y6w7acu/
[HorribleSubs]_Mitsuboshi_Colors_-_06_[720p].mkv
https://filefox.cc/ra82ecdv0xyh/
[HorribleSubs]_Mitsuboshi_Colors_-_07_[720p].mkv
https://filefox.cc/mxk6er5b708k/
[HorribleSubs]_Mitsuboshi_Colors_-_08_[720p].mkv
https://filefox.cc/4zgetzyksg51/
[HorribleSubs]_Mitsuboshi_Colors_-_09_[720p].mkv
https://filefox.cc/v29xzhkpgv2m/
[HorribleSubs]_Mitsuboshi_Colors_-_10_[720p].mkv
https://filefox.cc/aj2k7rrc9af3/
[HorribleSubs]_Mitsuboshi_Colors_-_11_[720p].mkv
https://filefox.cc/o8i0bo98k31k/
[HorribleSubs]_Mitsuboshi_Colors_-_12_[720p].mkv