LazyMuffin
02-08-2019, 08:07 AM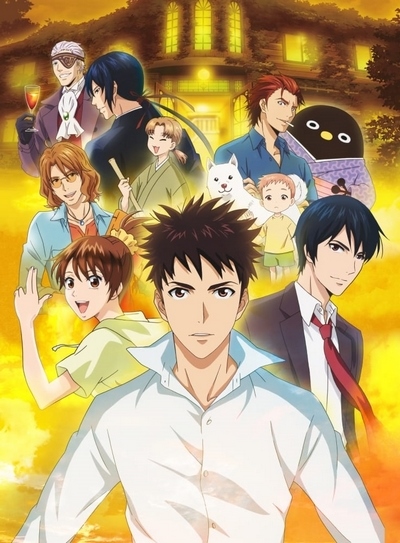 Synopsis
Inaba Yuushi's parents died in his first year of middle school, and he moved in with his relatives. Though they did care for him, he could tell he was a burden. After he graduated, he happily prepared to move to a high school with a dormitory. Unfortunately, the dormitory burned to the ground before he could move in! Yuushi doesn't want to live with his grudging relatives, but it's rough finding lodging as an orphaned student with little money. He finally finds a room in a nice old building which seems too good to be true.
The catch is that it is a Monster House, a place where humans and supernatural creatures-ghosts, mononoke, etc.-live together. Another high schooler lives there, a cute girl named Akine, and she's completely unfazed by the monsters. In fact, she can even exorcise evil spirits! Yuushi's high school life just got much stranger than he ever bargained for!
Alternative Titles
English: Elegant Yokai Apartment Life
Japanese: 妖怪アパートの幽雅な日常
Information
Episodes: 26
Aired: Jul 3, 2017 to Dec 25, 2017
Producers: TMS Entertainment, Kodansha, Asmik Ace, East Japan Marketing & Communications, Sumitomo
Licensors: None found
Studios: Shin-Ei Animation
Genres: Slice of Life, Mystery, Supernatural
Duration: 23 min. per ep.
File Information
Group: HorribleSubs
Video: 1280x720 AVC 23.976 FPS
Audio: Japanese AAC LC
Subtitles: English ASS
Container: MKV
Screenshots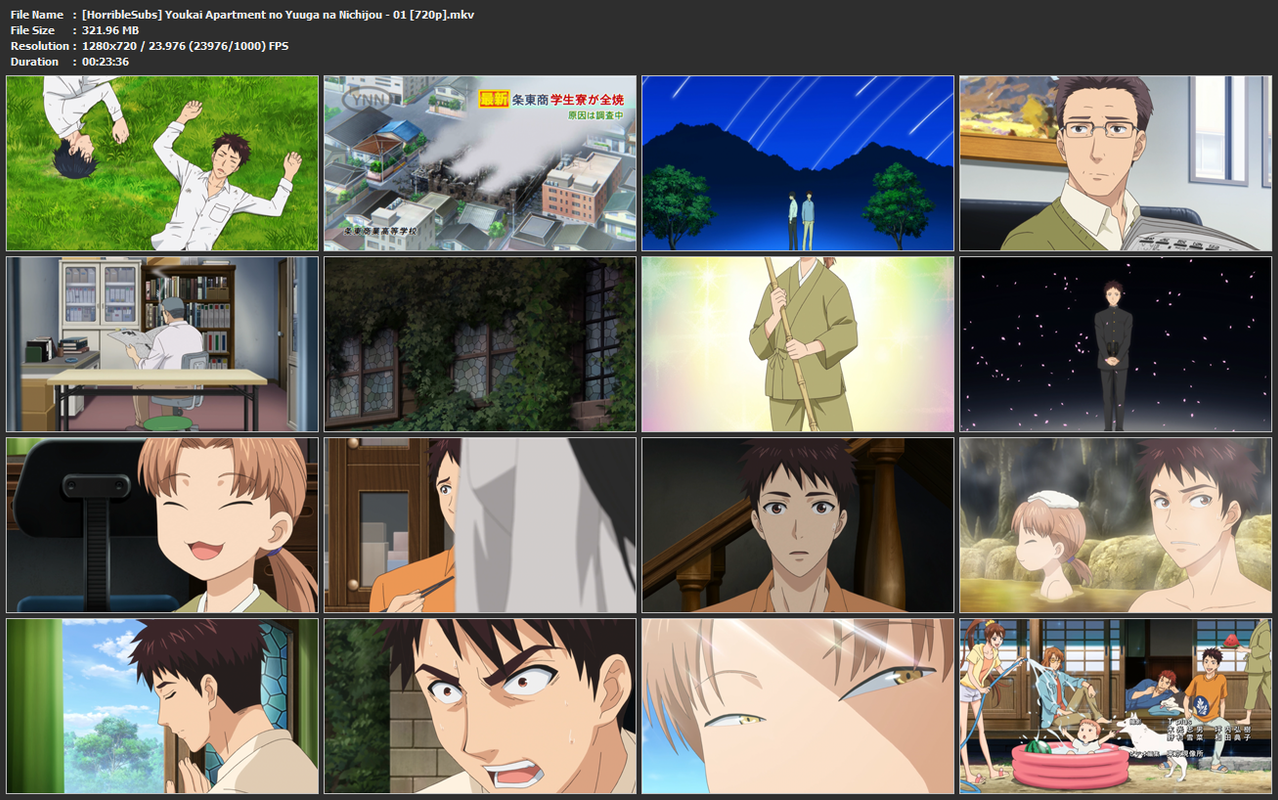 Downloads:
https://filefox.cc/s5w34nw6zsuf/
[HorribleSubs]_Youkai_Apartment_no_Yuuga_na_Nichijou_-_01_[720p].mkv
https://filefox.cc/rh03k87tes7u/
[HorribleSubs]_Youkai_Apartment_no_Yuuga_na_Nichijou_-_02_[720p].mkv
https://filefox.cc/oiaw2lk0mlzu/
[HorribleSubs]_Youkai_Apartment_no_Yuuga_na_Nichijou_-_03_[720p].mkv
https://filefox.cc/r6qkwz4jw2cb/
[HorribleSubs]_Youkai_Apartment_no_Yuuga_na_Nichijou_-_04_[720p].mkv
https://filefox.cc/1hwdjvl466q3/
[HorribleSubs]_Youkai_Apartment_no_Yuuga_na_Nichijou_-_05_[720p].mkv
https://filefox.cc/jnkbxswl6num/
[HorribleSubs]_Youkai_Apartment_no_Yuuga_na_Nichijou_-_06_[720p].mkv
https://filefox.cc/0pjsw1sa8twu/
[HorribleSubs]_Youkai_Apartment_no_Yuuga_na_Nichijou_-_07_[720p].mkv
https://filefox.cc/qm4dy3d5dll6/
[HorribleSubs]_Youkai_Apartment_no_Yuuga_na_Nichijou_-_08_[720p].mkv
https://filefox.cc/rnuuyceocufq/
[HorribleSubs]_Youkai_Apartment_no_Yuuga_na_Nichijou_-_09_[720p].mkv
https://filefox.cc/drrpm8shjnfc/
[HorribleSubs]_Youkai_Apartment_no_Yuuga_na_Nichijou_-_10_[720p].mkv
https://filefox.cc/sr4w6j426isg/
[HorribleSubs]_Youkai_Apartment_no_Yuuga_na_Nichijou_-_11_[720p].mkv
https://filefox.cc/aoct5syoy9gq/
[HorribleSubs]_Youkai_Apartment_no_Yuuga_na_Nichijou_-_12_[720p].mkv
https://filefox.cc/r10q43fauol4/
[HorribleSubs]_Youkai_Apartment_no_Yuuga_na_Nichijou_-_13_[720p].mkv
https://filefox.cc/j33cp92mirc8/
[HorribleSubs]_Youkai_Apartment_no_Yuuga_na_Nichijou_-_14_[720p].mkv
https://filefox.cc/1uzi6gk8lkw8/
[HorribleSubs]_Youkai_Apartment_no_Yuuga_na_Nichijou_-_15_[720p].mkv
https://filefox.cc/7uf5pscsgx0x/
[HorribleSubs]_Youkai_Apartment_no_Yuuga_na_Nichijou_-_16_[720p].mkv
https://filefox.cc/8qfcyhbfl7g3/
[HorribleSubs]_Youkai_Apartment_no_Yuuga_na_Nichijou_-_17_[720p].mkv
https://filefox.cc/taxitv92qkaf/
[HorribleSubs]_Youkai_Apartment_no_Yuuga_na_Nichijou_-_18_[720p].mkv
https://filefox.cc/f65m6lflrr57/
[HorribleSubs]_Youkai_Apartment_no_Yuuga_na_Nichijou_-_19_[720p].mkv
https://filefox.cc/ti0coehhrhy9/
[HorribleSubs]_Youkai_Apartment_no_Yuuga_na_Nichijou_-_20_[720p].mkv
https://filefox.cc/ki0c9zs7ykij/
[HorribleSubs]_Youkai_Apartment_no_Yuuga_na_Nichijou_-_21_[720p].mkv
https://filefox.cc/vemnc5gnk6iz/
[HorribleSubs]_Youkai_Apartment_no_Yuuga_na_Nichijou_-_22_[720p].mkv
https://filefox.cc/aqr59ej56mfl/
[HorribleSubs]_Youkai_Apartment_no_Yuuga_na_Nichijou_-_23_[720p].mkv
https://filefox.cc/i8vhindk3fi3/
[HorribleSubs]_Youkai_Apartment_no_Yuuga_na_Nichijou_-_24_[720p].mkv
https://filefox.cc/azgjcba7rt5w/
[HorribleSubs]_Youkai_Apartment_no_Yuuga_na_Nichijou_-_25_[720p].mkv
https://filefox.cc/vs5i9w2zrc72/
[HorribleSubs]_Youkai_Apartment_no_Yuuga_na_Nichijou_-_26_[720p].mkv