LazyMuffin
02-10-2019, 06:56 AM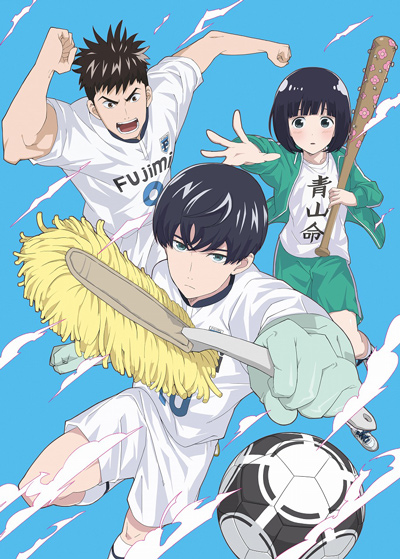 Synopsis
He is charming, cool, athletic, a good cook, but more importantly, he's a clean freak. Aoyama is idolized and respected by everyone, but they can only admire him from afar due to his mysophobia. Despite that, he plays soccer-a rather dirty sport!
As the playmaker for Fujimi High School's soccer club, Aoyama avoids physical contact at all cost and cleanly dribbles toward victory. However, the path to Nationals will not be easy for Fujimi's underdog team. But alongside striker Kaoru Zaizen, Aoyama will show everyone that even as a clean freak, there are things he's willing to get dirty for.
Alternative Titles
English: Clean Freak! Aoyama-kun
Synonyms: Cleanliness Boy! Aoyama-kun
Japanese: 潔癖男子!青山くん
Information
Episodes: 12
Aired: Jul 3, 2017 to Sep 18, 2017
Producers: Sotsu, TMS Entertainment, Pony Canyon, KlockWorx, Tokyo MX, East Japan Marketing & Communications
Licensors: Ponycan USA
Studios: Studio Hibari
Genres: Comedy, Seinen, Sports
Duration: 23 min. per ep.
File Information
Group: SCP-2223
Video: 1920x1080 AVC 23.976 FPS
Audio: Japanese FLAC
Subtitles: English ASS
Container: MKV
Screenshots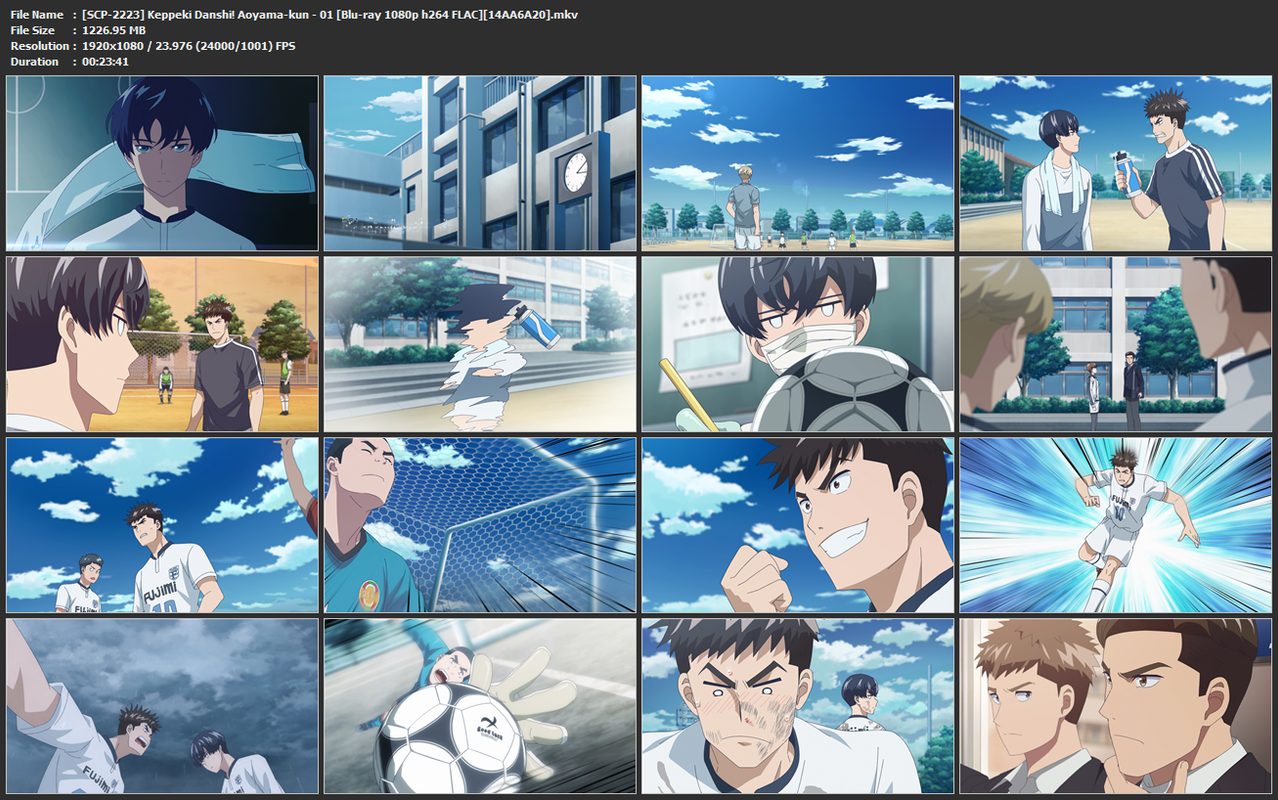 Downloads:
https://filefox.cc/c0ir9n9vkmy5/
[SCP-2223]_Keppeki_Danshi!_Aoyama-kun_-_01_[Blu-ray_1080p_h264_FLAC][14AA6A20].mkv
https://filefox.cc/kuu16y2lw12k/
[SCP-2223]_Keppeki_Danshi!_Aoyama-kun_-_02_[Blu-ray_1080p_h264_FLAC][A9EAADB2].mkv
https://filefox.cc/pi4pj8c26ewb/
[SCP-2223]_Keppeki_Danshi!_Aoyama-kun_-_03_[Blu-ray_1080p_h264_FLAC][E7506262].mkv
https://filefox.cc/ruxhexmkdfoa/
[SCP-2223]_Keppeki_Danshi!_Aoyama-kun_-_04_[Blu-ray_1080p_h264_FLAC][1DD85C9C].mkv
https://filefox.cc/7vk8shxcbpg0/
[SCP-2223]_Keppeki_Danshi!_Aoyama-kun_-_05_[Blu-ray_1080p_h264_FLAC][26344DF2].mkv
https://filefox.cc/zocrfx8c203i/
[SCP-2223]_Keppeki_Danshi!_Aoyama-kun_-_06_[Blu-ray_1080p_h264_FLAC][0F310A41].mkv
https://filefox.cc/wr4g1rk90nlr/
[SCP-2223]_Keppeki_Danshi!_Aoyama-kun_-_07_[Blu-ray_1080p_h264_FLAC][0D775171].mkv
https://filefox.cc/iefw18t61dd0/
[SCP-2223]_Keppeki_Danshi!_Aoyama-kun_-_08_[Blu-ray_1080p_h264_FLAC][A99F425E].mkv
https://filefox.cc/x7wjcr0u8lqs/
[SCP-2223]_Keppeki_Danshi!_Aoyama-kun_-_09_[Blu-ray_1080p_h264_FLAC][ED1C0F37].mkv
https://filefox.cc/5jl8g8vwcn1g/
[SCP-2223]_Keppeki_Danshi!_Aoyama-kun_-_10_[Blu-ray_1080p_h264_FLAC][CDA4079D].mkv
https://filefox.cc/5jsr3xj7pjqo/
[SCP-2223]_Keppeki_Danshi!_Aoyama-kun_-_11_[Blu-ray_1080p_h264_FLAC][BB472A42].mkv
https://filefox.cc/z9egzj4dsua7/
[SCP-2223]_Keppeki_Danshi!_Aoyama-kun_-_12_[Blu-ray_1080p_h264_FLAC][3BEF0D65].mkv