LazyMuffin
02-18-2019, 07:43 AM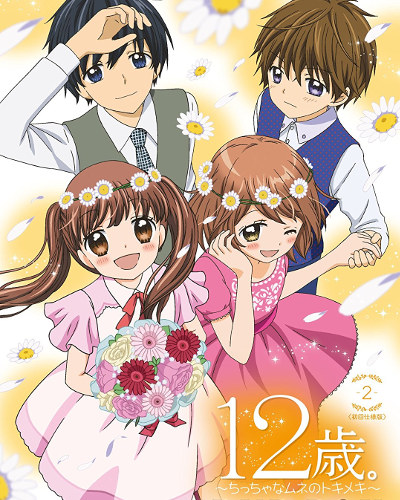 Synopsis
The story begins with Hanabi, a sixth-grade girl who is neither an adult nor a child. She deals with issues such as accidentally witnessing her homeroom teacher kissing, and worrying about experiencing physiological changes before her friends. The series depicts a 12-year-old girl's innocent worries and first love.
Alternative Titles
Synonyms: Age 12., Juuni-sai.
Japanese: 12歳。~ちっちゃなムネのトキメキ~
Information
Episodes: 12
Aired: Oct 3, 2016 to Dec 19, 2016
Producers: Shogakukan Productions, AT-X, Nippon Columbia, Warner Bros. Japan, Shogakukan, East Japan Marketing & Communications, Sun TV
Licensors: None found
Studios: OLM
Genres: Romance, School, Shoujo
Duration: 24 min. per ep.
File Information
Group: Doremi
Video: 1280x720 AVC 23.976 FPS
Audio: Japanese AAC LC
Subtitles: English ASS
Container: MKV
Screenshots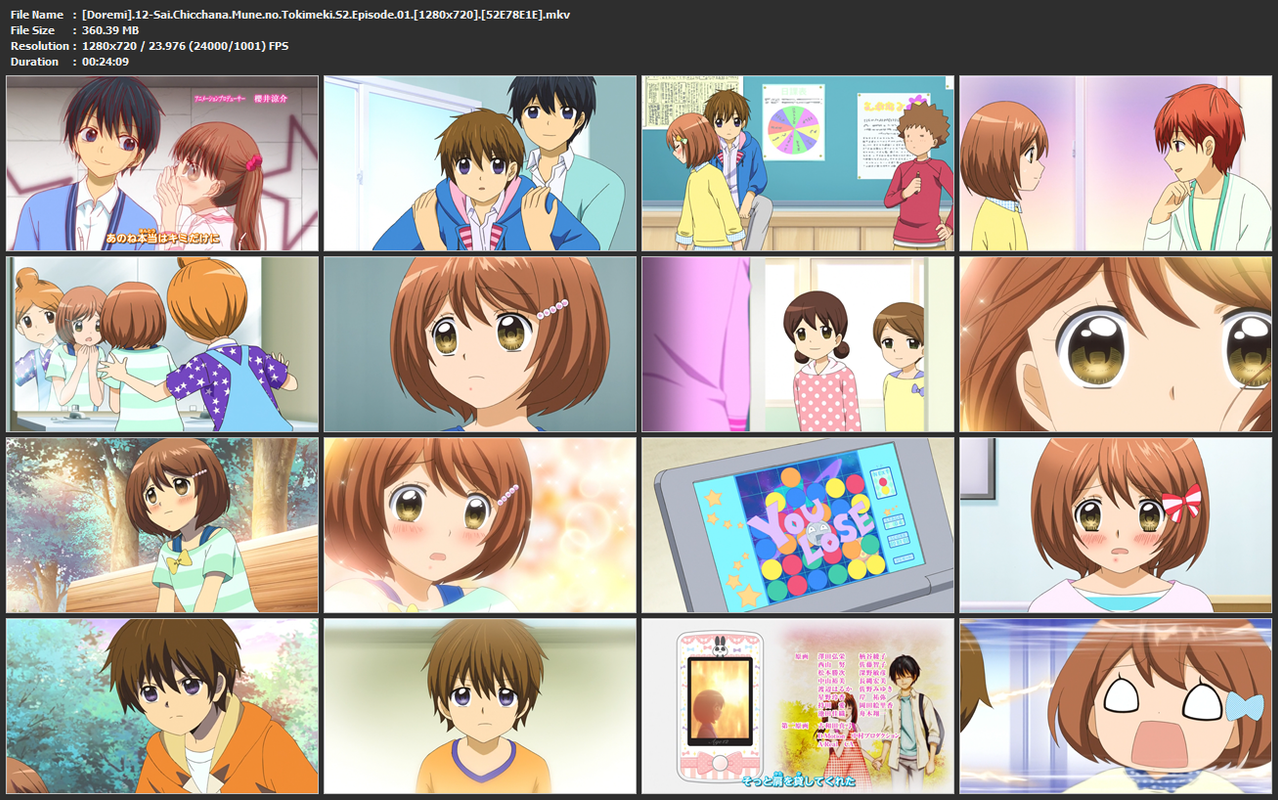 Downloads:
https://filefox.cc/eramb003oner/
[Doremi].12-Sai.Chicchana.Mune.no.Tokimeki.S2.Episode.01.[1280x720].[52E78E1E].mkv
https://filefox.cc/sp8cwq9f5198/
[Doremi].12-Sai.Chicchana.Mune.no.Tokimeki.S2.Episode.02.[1280x720].[6487AC19].mkv
https://filefox.cc/kaxepda6yjjl/
[Doremi].12-Sai.Chicchana.Mune.no.Tokimeki.S2.Episode.03.[1280x720].[88BC03F5].mkv
https://filefox.cc/m8hcfr5nxz70/
[Doremi].12-Sai.Chicchana.Mune.no.Tokimeki.S2.Episode.04.[1280x720].[26015715].mkv
https://filefox.cc/qfghib2ct7gs/
[Doremi].12-Sai.Chicchana.Mune.no.Tokimeki.S2.Episode.05.[1280x720].[576928A2].mkv
https://filefox.cc/fmtktn87zeyt/
[Doremi].12-Sai.Chicchana.Mune.no.Tokimeki.S2.Episode.06.[1280x720].[70C3A425].mkv
https://filefox.cc/9nd2froq34hl/
[Doremi].12-Sai.Chicchana.Mune.no.Tokimeki.S2.Episode.07.[1280x720].[C6D5156A].mkv
https://filefox.cc/1cllhl68n7pf/
[Doremi].12-Sai.Chicchana.Mune.no.Tokimeki.S2.Episode.08.[1280x720].[C4DE2D8A].mkv
https://filefox.cc/8pnmv9pshkt1/
[Doremi].12-Sai.Chicchana.Mune.no.Tokimeki.S2.Episode.09.[1280x720].[D910CBE9].mkv
https://filefox.cc/42gb9zwwwqxt/
[Doremi].12-Sai.Chicchana.Mune.no.Tokimeki.S2.Episode.10.[1280x720].[742AC19D].mkv
https://filefox.cc/tg05by56lquj/
[Doremi].12-Sai.Chicchana.Mune.no.Tokimeki.S2.Episode.11.[1280x720].[933EF795].mkv
https://filefox.cc/sp6r0yweek9g/
[Doremi].12-Sai.Chicchana.Mune.no.Tokimeki.S2.Episode.12.[1280x720].[6E9275DA].FINAL.mkv