LazyMuffin
02-19-2019, 05:36 AM
Synopsis
In rugby, there is no ace striker, there is no number four batter, so who is the star of the team?
The story begins at school entrance ceremony of Kanagawa High School where Kenji Gion, a small but gutsy go-getter joins the rugby club. He joins with his classmate, Iwashimizu, who has a complicated past and sub-captain Hachiouji, who always takes good care of his Club members. Lastly, there is Captain Sekizan, who has overwhelming powers but keeps his cards close to his chest. With such differences in both personality and physical performance, the team must learn to work and grow together so they can become the best.
Alternative Titles
English: All Out!!
Japanese: オールアウト!!
Information
Episodes: 25
Aired: Oct 7, 2016 to Mar 31, 2017
Producers: Telecom Animation Film, Mainichi Broadcasting System, Kodansha, Asmik Ace, Sony Music Entertainment
Licensors: Funimation
Studios: Madhouse, TMS Entertainment
Genres: Sports, School, Seinen
Duration: 24 min. per ep.
File Information
Group: HorribleSubs
Video: 1280x720 AVC 23.976 FPS
Audio: Japanese AAC LC
Subtitles: English ASS
Container: MKV
Screenshots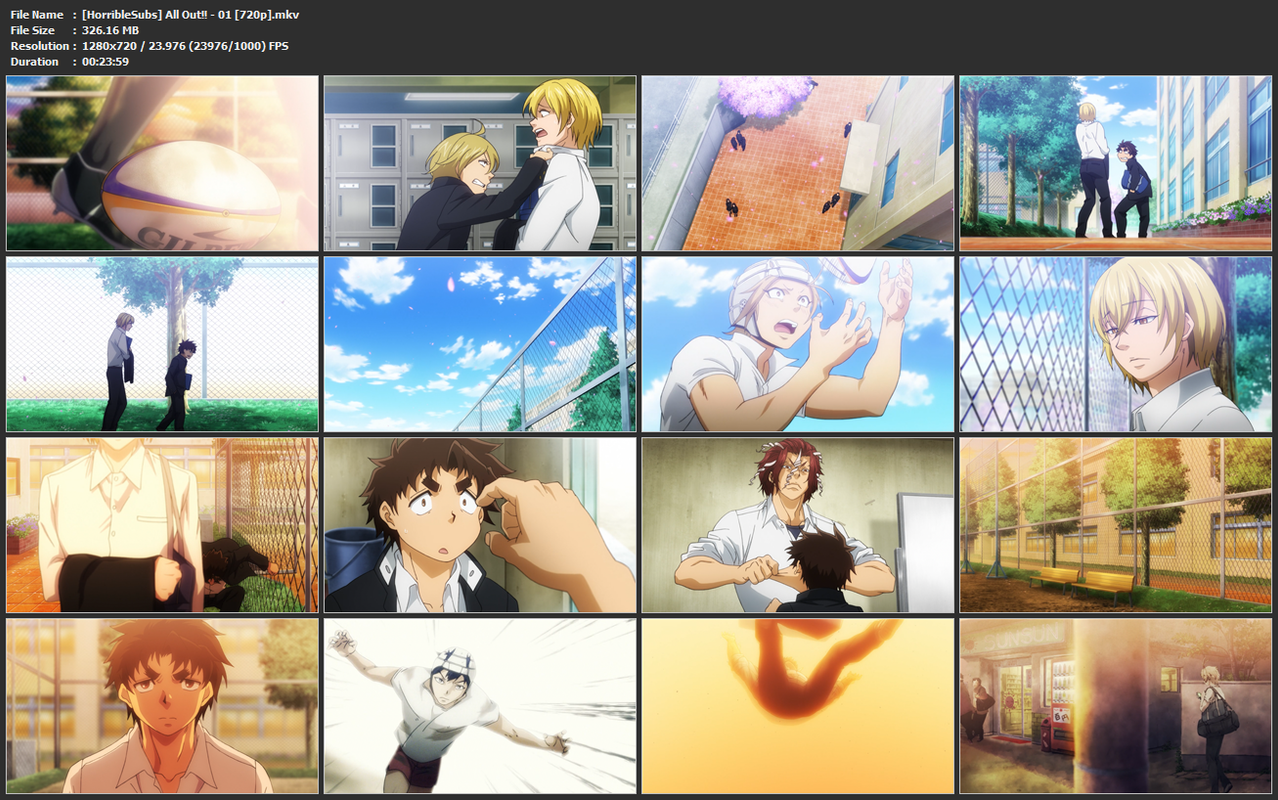 Downloads:
https://filefox.cc/ogyou05eunk2/
[HorribleSubs]_All_Out!!_-_01_[720p].mkv
https://filefox.cc/7yfblz2miuws/
[HorribleSubs]_All_Out!!_-_02_[720p].mkv
https://filefox.cc/3he8d4jnl0bz/
[HorribleSubs]_All_Out!!_-_03_[720p].mkv
https://filefox.cc/om7e37xn4xk4/
[HorribleSubs]_All_Out!!_-_04_[720p].mkv
https://filefox.cc/l6vz69pbfot4/
[HorribleSubs]_All_Out!!_-_05_[720p].mkv
https://filefox.cc/i37gv9ona4pt/
[HorribleSubs]_All_Out!!_-_06_[720p].mkv
https://filefox.cc/zx49ljk1m2ib/
[HorribleSubs]_All_Out!!_-_07_[720p].mkv
https://filefox.cc/riqn255hu141/
[HorribleSubs]_All_Out!!_-_08_[720p].mkv
https://filefox.cc/tfsy2p19drw6/
[HorribleSubs]_All_Out!!_-_09_[720p].mkv
https://filefox.cc/uf5yr8pmtqf2/
[HorribleSubs]_All_Out!!_-_10_[720p].mkv
https://filefox.cc/3hwhg1tp36na/
[HorribleSubs]_All_Out!!_-_11_[720p].mkv
https://filefox.cc/n8a62cxl5hyb/
[HorribleSubs]_All_Out!!_-_12_[720p].mkv
https://filefox.cc/avpn7borc8so/
[HorribleSubs]_All_Out!!_-_13_[720p].mkv
https://filefox.cc/0e8r7bx0yo43/
[HorribleSubs]_All_Out!!_-_14_[720p].mkv
https://filefox.cc/apbmf6025lp7/
[HorribleSubs]_All_Out!!_-_15_[720p].mkv
https://filefox.cc/euc640a2imyr/
[HorribleSubs]_All_Out!!_-_16_[720p].mkv
https://filefox.cc/74m7u54lusog/
[HorribleSubs]_All_Out!!_-_17_[720p].mkv
https://filefox.cc/psltbfnn8wjd/
[HorribleSubs]_All_Out!!_-_18_[720p].mkv
https://filefox.cc/hv9jx9xrvsk7/
[HorribleSubs]_All_Out!!_-_19_[720p].mkv
https://filefox.cc/29u2xbevk4g0/
[HorribleSubs]_All_Out!!_-_20_[720p].mkv
https://filefox.cc/3l5wftbq33f3/
[HorribleSubs]_All_Out!!_-_21_[720p].mkv
https://filefox.cc/d3jeyi6l7w5j/
[HorribleSubs]_All_Out!!_-_22_[720p].mkv
https://filefox.cc/60v594v37af9/
[HorribleSubs]_All_Out!!_-_23_[720p].mkv
https://filefox.cc/pc0estesqtmq/
[HorribleSubs]_All_Out!!_-_24_[720p].mkv
https://filefox.cc/62e65o4lizb3/
[HorribleSubs]_All_Out!!_-_25_[720p].mkv