LazyMuffin
02-23-2019, 05:56 AM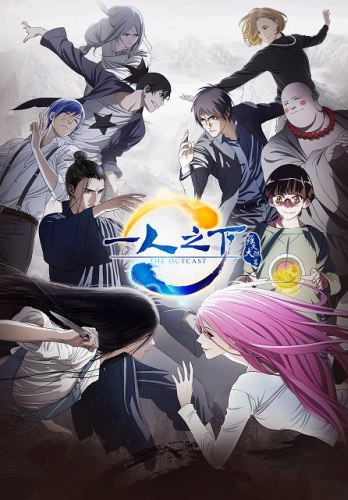 Synopsis
Second season of Hitori no Shita: The Outcast.
Alternative Titles
English: Hitori no Shita - The Outcast 2
Synonyms: hitorinoshita - The Outcast
Japanese: 一人之下 THE OUTCAST 2ndシーズン
Information
Episodes: 24
Aired: Oct 27, 2017 to May 18, 2018
Producers: Tencent Animation & Comics
Licensors: None found
Studios: Haoliners Animation League
Genres: Action, Super Power, Supernatural
Duration: 24 min. per ep.
File Information
Group: Erai-raws
Video: 1280x720 AVC 23.976 FPS
Audio: Japanese AAC LC
Subtitles: English, German, French, Italian, Portuguese ASS
Container: MKV
Screenshots
Downloads:
https://filefox.cc/rizlpdg8zngp/
[Erai-raws]_Hitori_no_a_-_The_Outcast_2nd_Season_-_00_[720p][Multiple_Subtitle].mkv
https://filefox.cc/1behfgo3e8gc/
[Erai-raws]_Hitori_no_a_-_The_Outcast_2nd_Season_-_01_[720p][Multiple_Subtitle].mkv
https://filefox.cc/n2w6ld2rfao8/
[Erai-raws]_Hitori_no_a_-_The_Outcast_2nd_Season_-_02_[720p][Multiple_Subtitle].mkv
https://filefox.cc/jrzm0pdwwr0u/
[Erai-raws]_Hitori_no_a_-_The_Outcast_2nd_Season_-_03_[720p][Multiple_Subtitle].mkv
https://filefox.cc/btxck5l1xbbn/
[Erai-raws]_Hitori_no_a_-_The_Outcast_2nd_Season_-_04_[720p][Multiple_Subtitle].mkv
https://filefox.cc/1t15paoezb02/
[Erai-raws]_Hitori_no_a_-_The_Outcast_2nd_Season_-_05_[720p][Multiple_Subtitle].mkv
https://filefox.cc/odijqvzpzw45/
[Erai-raws]_Hitori_no_a_-_The_Outcast_2nd_Season_-_06_[720p][Multiple_Subtitle].mkv
https://filefox.cc/i8dda9ql9w1s/
[Erai-raws]_Hitori_no_a_-_The_Outcast_2nd_Season_-_07_[720p][Multiple_Subtitle].mkv
https://filefox.cc/zjwtmxfz59dt/
[Erai-raws]_Hitori_no_a_-_The_Outcast_2nd_Season_-_08_[720p][Multiple_Subtitle].mkv
https://filefox.cc/jewm75pi627r/
[Erai-raws]_Hitori_no_a_-_The_Outcast_2nd_Season_-_09_[720p][Multiple_Subtitle].mkv
https://filefox.cc/1ww02e26naq1/
[Erai-raws]_Hitori_no_a_-_The_Outcast_2nd_Season_-_10_[720p][Multiple_Subtitle].mkv
https://filefox.cc/5z3370r8obcq/
[Erai-raws]_Hitori_no_a_-_The_Outcast_2nd_Season_-_11_[720p][Multiple_Subtitle].mkv
https://filefox.cc/rl86f7lhmsb8/
[Erai-raws]_Hitori_no_a_-_The_Outcast_2nd_Season_-_12_[720p][Multiple_Subtitle].mkv
https://filefox.cc/kuid81x9swrp/
[Erai-raws]_Hitori_no_a_-_The_Outcast_2nd_Season_-_13_[720p][Multiple_Subtitle].mkv
https://filefox.cc/nk3nscmfzqxn/
[Erai-raws]_Hitori_no_a_-_The_Outcast_2nd_Season_-_14_[720p][Multiple_Subtitle].mkv
https://filefox.cc/c4q2zsjbhes5/
[Erai-raws]_Hitori_no_a_-_The_Outcast_2nd_Season_-_15_[720p][Multiple_Subtitle].mkv
https://filefox.cc/tus1lqbbevt1/
[Erai-raws]_Hitori_no_a_-_The_Outcast_2nd_Season_-_16_[720p][Multiple_Subtitle].mkv
https://filefox.cc/u9rr4s1e6jhk/
[Erai-raws]_Hitori_no_a_-_The_Outcast_2nd_Season_-_17_[720p][Multiple_Subtitle].mkv
https://filefox.cc/nycxrjor3w9m/
[Erai-raws]_Hitori_no_a_-_The_Outcast_2nd_Season_-_18_[720p][Multiple_Subtitle].mkv
https://filefox.cc/asoo9golxt30/
[Erai-raws]_Hitori_no_a_-_The_Outcast_2nd_Season_-_19_[720p][Multiple_Subtitle].mkv
https://filefox.cc/s15bmwr3rol0/
[Erai-raws]_Hitori_no_a_-_The_Outcast_2nd_Season_-_20_[720p][Multiple_Subtitle].mkv
https://filefox.cc/elfvlud8bwdw/
[Erai-raws]_Hitori_no_a_-_The_Outcast_2nd_Season_-_21_[720p][Multiple_Subtitle].mkv
https://filefox.cc/w042p7fjlg1c/
[Erai-raws]_Hitori_no_a_-_The_Outcast_2nd_Season_-_22_[720p][Multiple_Subtitle].mkv
https://filefox.cc/yvgp7929s3cc/
[Erai-raws]_Hitori_no_a_-_The_Outcast_2nd_Season_-_23_[720p][Multiple_Subtitle].mkv
https://filefox.cc/94u9yp79pj4m/
[Erai-raws]_Hitori_no_a_-_The_Outcast_2nd_Season_-_24_END_[720p][Multiple_Subtitle].mkv