LazyMuffin
03-10-2019, 05:53 AM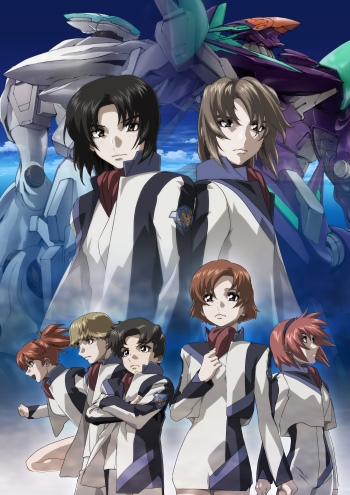 Synopsis
2150 AD. The battle against the silicon-based Festums from outer space reaches a new phase. Fragments of the North Pole Mir were scattered throughout the world. Eventually, they began to act on their own as independent Mirs. Most hated humanity and attacked them, but some chose to coexist with mankind. Some with the same way of thinking existed within the human race, as well: those who were both human and Festum. They added to the chaos of the battle and brought about even more hatred.
Alternative Titles
Japanese: 蒼穹のファフナー Dead Aggressor EXODUS
Information
Episodes: 13
Aired: Jan 9, 2015 to Apr 3, 2015
Producers: Starchild Records, Mainichi Broadcasting System
Licensors: None found
Studios: Xebec Zwei
Genres: Action, Drama, Mecha, Military, Sci-Fi
Duration: 24 min. per ep.
File Information
Group: TxxZ&A.I.R.nesSub
Video: 1920x1080 AVC 23.976 FPS
Audio: Japanese FLAC
Subtitles: English ASS
Container: MKV
Screenshots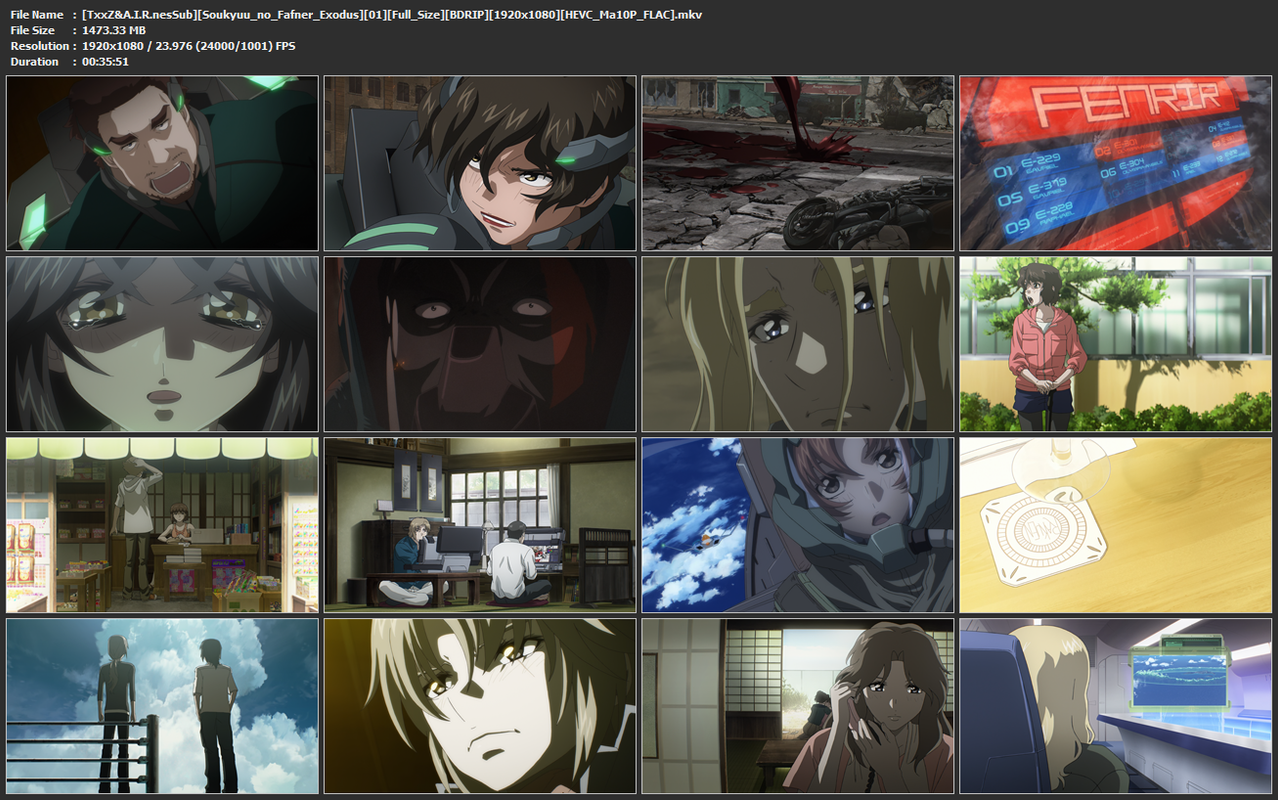 Downloads:
https://filefox.cc/7wxazteng7bu/
[TxxZ&A.I.R.nesSub][Soukyuu_no_Fafner_Exodus][01][Full_Size][BDRIP][1920x1080][HEVC_Ma10P_FLAC].mkv
https://filefox.cc/tj7gf3a2alu5/
[TxxZ&A.I.R.nesSub][Soukyuu_no_Fafner_Exodus][02][BDRIP][1920x1080][HEVC_Ma10P_FLAC].mkv
https://filefox.cc/waam0jichq78/
[TxxZ&A.I.R.nesSub][Soukyuu_no_Fafner_Exodus][03][BDRIP][1920x1080][HEVC_Ma10P_FLAC].mkv
https://filefox.cc/dbply5njrfq5/
[TxxZ&A.I.R.nesSub][Soukyuu_no_Fafner_Exodus][04][BDRIP][1920x1080][HEVC_Ma10P_FLAC].mkv
https://filefox.cc/ciuiql3xmzbq/
[TxxZ&A.I.R.nesSub][Soukyuu_no_Fafner_Exodus][05][BDRIP][1920x1080][HEVC_Ma10P_FLAC].mkv
https://filefox.cc/e4h0zukqhbzy/
[TxxZ&A.I.R.nesSub][Soukyuu_no_Fafner_Exodus][06][BDRIP][1920x1080][HEVC_Ma10P_FLAC].mkv
https://filefox.cc/aedsk9ll6gne/
[TxxZ&A.I.R.nesSub][Soukyuu_no_Fafner_Exodus][07][BDRIP][1920x1080][HEVC_Ma10P_FLAC].mkv
https://filefox.cc/dae0j65mud9p/
[TxxZ&A.I.R.nesSub][Soukyuu_no_Fafner_Exodus][08][BDRIP][1920x1080][HEVC_Ma10P_FLAC].mkv
https://filefox.cc/tqmpzrqeivo5/
[TxxZ&A.I.R.nesSub][Soukyuu_no_Fafner_Exodus][09][BDRIP][1920x1080][HEVC_Ma10P_FLAC].mkv
https://filefox.cc/3j2w8rpwqzng/
[TxxZ&A.I.R.nesSub][Soukyuu_no_Fafner_Exodus][10][BDRIP][1920x1080][HEVC_Ma10P_FLAC].mkv
https://filefox.cc/rf0t8qxldx02/
[TxxZ&A.I.R.nesSub][Soukyuu_no_Fafner_Exodus][11][BDRIP][1920x1080][HEVC_Ma10P_FLAC].mkv
https://filefox.cc/qtq4ak0ydw9n/
[TxxZ&A.I.R.nesSub][Soukyuu_no_Fafner_Exodus][12][BDRIP][1920x1080][HEVC_Ma10P_FLAC].mkv
https://filefox.cc/v8l6ob6wi3ny/
[TxxZ&A.I.R.nesSub][Soukyuu_no_Fafner_Exodus][13][BDRIP][1920x1080][HEVC_Ma10P_FLAC].mkv