Darth Revan
02-19-2011, 12:10 AM
Similar to the thread I created in General Gaming, list your five favorite RPG characters (Non Final Fantasy characters please... there are other RPG's, so let's keep this thread without any FF characters thanks.) show a pic, name of game and reason as to why you like them.
In no particular order
http://www.rpgamer.com/games/suiko/suik2/art/suik2-021.gif
Georg Prime
Suikoden II/V
Loyalty is paramount to Georg, and after seeing the events of Suikoden V unfold, it's understandable why he is so distant and somewhat of a pariah in Suikoden II. Due to events in Suikoden V, it's clear how loyal he is to his friends and I respect that.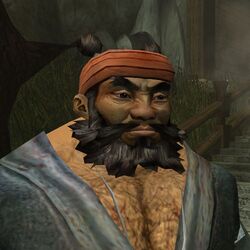 The Black Whirlwind
Jade Empire
Loud, rash, slovenly and drunk can describe The Black Whirlwind well... but there is method to his madness. Powerful and deadly, and shows that you appearances can be deceiving.
Yuri Hyuga
Shadow Hearts/Shadow Hearts Covenant
Initially meet him as a cold, aloof and rude individual (He's even known as Rude Hero when you first control him) but over the course of the journey in the first game, we find out how strong he is mentally and then in the second, his determination to keep moving forward.
Bleu
Breath of Fire 1/2
Very powerful sorceress who (of course) knows more than she seems. Another one who has loyalty to their friends (in this case, the player character Ryu).
HK-47
Knights of the Old Republic I/II, Star Wars Galaxies and (hopefully) Star Wars The Old Republic
What can I say about this guy? Saracastic, homicidal and knowledgeable in a whole manner of ways to kill anything. The banter between him and T3-M4 in the KotOR games, is imo, based off the similar banter between Threepio and Artoo in the Star Wars movies.